In Stock
Base Ball Uniforms
ISSUA SPORTS customize sublimated Baseball uniforms with 100% Polyester Including Moisture wicking, breathable, durable and flexible which keep the wearer dry and fresh in all kind of atmosphere. It is a technically advanced sublimated fabric which offers style, comfort and potential to customize with designs and logos to suit your team's requirements.
In fact, sublimation is known as the highest quality customization on the market for sports uniforms.  It's the process of printing your custom designs directly into the fabric of your custom Baseball Jerseys which more durable and won't bleed, fade. Our custom sublimated baseball jerseys are available in Full Button, 02 Buttons, Crew Neck and V-Neck with multiple designs, color changing, placing logos etc.
In DYO, you can design for your own, teams, shop, club, college, school, league with sponsor logos, names and Numbers.
American Size:- Youth/XS, Youth/S, Youth/M, Youth/L, Youth/XL, Adult/S, Adult/M, Adult/L, Adult/XL, Adult/XXL
European Size:- XXS, XS, S, M, L, XL, XXL, XXXL, XXXXL
Collar Style:- Baseball Shirts Collar Style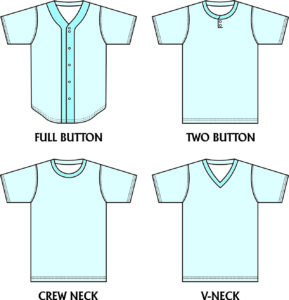 Baseball Uniform
Style No. IS-3011
Your custom content goes here. You can add the content for individual product